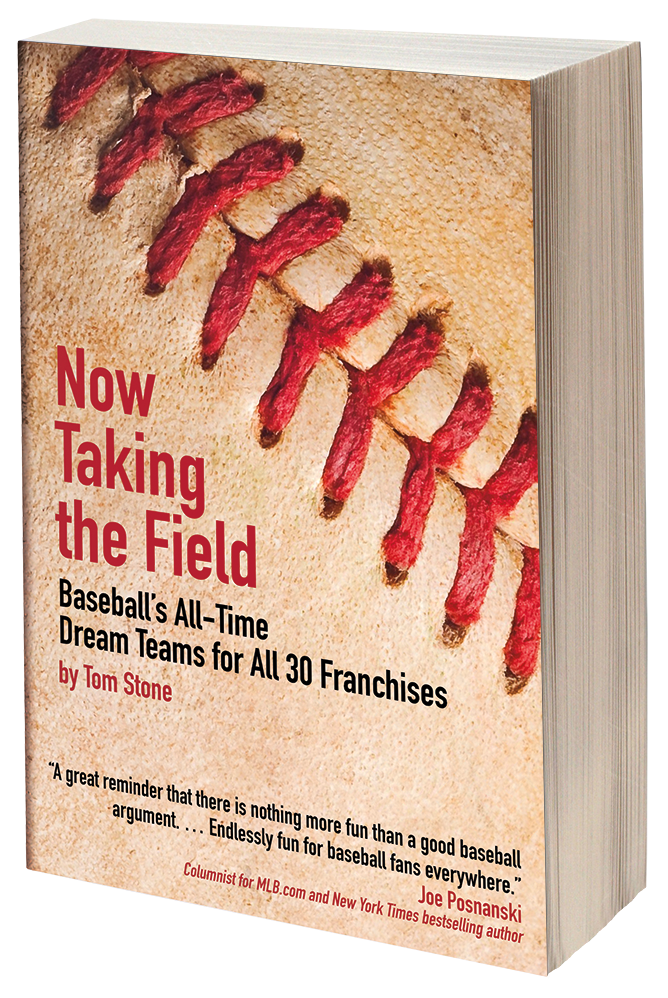 Now Taking the Field
Baseball's All-Time Dream Teams for All 30 Franchises
by Tom Stone
Who is the best at each position throughout the history of each major league baseball franchise? Now Taking the Field provides robust 30-man all-time dream team rosters, selected based on Wins Above Replacement (WAR), traditional statistics, awards, and post-season accomplishments. Additional features for each all-time team include starting lineups, depth charts, comparisons with numerous past authors and fan surveys, and more.
614 Pages
Published by ACTA Sports
ISBN = 978-0-87946-666-4
Endorsements
"A great reminder that there is nothing more fun than a good baseball argument. … Endlessly fun for baseball fans everywhere."
Joe Posnanski, Columnist for MLB.com and New York Times bestselling author
"Fascinating and compelling and a must for any baseball fan. 5 stars!!"
Roy Firestone, 7-Time Emmy Award winner with ESPN
"This volume joins Bill James' Historical Baseball Abstract and a few other books of its genre on an accessible bookshelf."
Bill Brown, Broadcaster for Cincinnati and Houston for 37 years
"Here's a book that actually answers Abbott & Costello's questions … who's on first, why that guy is the left fielder and the reason for today's catcher."
Steve Wulf, ESPN senior writer
"Stone's knowledge and love for the game carry the reader along like a ballpark organ melody. It's the ultimate fantasy league."
Linda Robertson, Miami Herald columnist

About Tom Stone
For the past ten years, Tom Stone has written on a variety of baseball topics at Seamheads.com. At a very early age Tom started to develop a keen interest in baseball's rich history and statistics, including how to compare players across time. Now Taking the Field is the result of nearly twenty years of research, and is the first of several baseball books he plans to write. 
Tom is a Senior Research Analyst at i4cp, the Institute for Corporate Productivity, and is a popular and frequent speaker at human resources and talent development conferences.
Tom lives in Rochester, NY with his wife Kassy LaBorie, his son Wyatt, and their two cats Speedy and Luna.