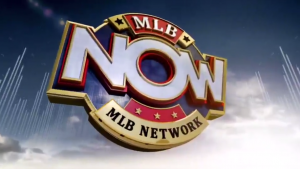 Back on February 21, I appeared an episode of MLB Now on the MLB Network. This was an amazing experience, and obviously a big break in terms of publicity for my book Now Taking the Field: Baseball's All-Time Dream Teams for All 30 Franchises. Under normal circumstances, I would have written up a blog post like this right away, both to share about the experience and to further capitalize on the publicity benefits.
Sadly, the circumstances were anything but normal for me, as the very next day my father, Paul Stone (age 74), passed away after a seven-year battle with cancer. He had been declared stage-four for a full year, so it was not entirely surprising. But it was nonetheless a very sad time for me and my family, and it meant we were busy with making arrangements, seeing family and friends, and so on. All activity to publicize my book slowed down for a while, and then life just got busy and I never circled back around to my MLB Now appearance.
So here now, with almost two months of time to reflect on the experience, is the story with some fun photos too.
How it Came About
Suffice to say, this opportunity arose rather quickly. It was early February, and I had been working with Adam Rifenberick of Press Box Publicity since November to help promote my book. He is very well connected in the sports media world, and up until early February had gotten me dozens of requests for review copies by sports writers, and also lined up several dozen radio interviews. Together we hadn't cracked the television world for my book yet, until he got a request from a one of his contacts at The MLB Network. They were interested in having me do an episode of the MLB Now show, and hoped I could come on short notice in about a week. I was able to arrange the time off, so the answer was a definite "yes!"
I live in Rochester, New York and MLB Now has their studios in Seacaucus, New Jersey. So I booked a flight for the night of February 20th to Newark Airport. Unfortunately, some bad weather arose and my flight was cancelled. So I decided to make the drive instead, something that normally would have been about 5 hours or so. The bad weather was very bad, even for this life-long Rochesterian, as it was more of an icy-rain event than a snow blizzard. I had to pull over twice and scrape thick ice off my windshield wipers, headlights, and really all over my car. I asked myself several times "Will this trip be worth it?!" What should have been 5 hours or so was more like 7 hours, but eventually I made it to my hotel a few miles from the MLB studios, grabbed a late dinner, and settled in for the night
The Morning Production Meeting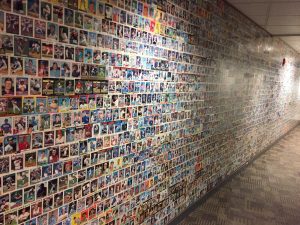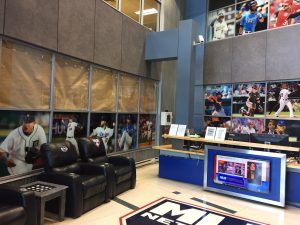 After having a nice breakfast, I made my way over to their studios. It is a large, almost industrial looking building, but on the inside it is baseball everywhere! I didn't take too many pictures, not wanting to seem like a total tourist, but I did grab these shots of the front lobby and the hallway of baseball cards. Suffice to say, the main cubicle and office area in the building, is adorned with baseball photos and paintings, and of course staff have lots of baseball items in their own spaces too.
The show was going to air live at 2pm, so to prepare for it about a dozen people gather a few hours before that for a production meeting. This is something the regular hosts, analysts, producers and support staff do all the time, but for me it was an interesting new experience. We met around one table in a standard conference room, each with a printed copy of the show plan: a minute-by-minute breakdown of what topics will be covered, who will be the focus of each, what media clips or other content will be used, and so on. Essentially it is a detailed, text-based storyboard for what will be a one-hour long program.
The meeting was both friendly and focused. Only a handful of people did the majority of the talking: the producers, the host Scott Braun, and the analysts for the day's show, Dan O'Dowd and Joe Girardi. After getting a feel for the personalities in the room, I did speak up a few times. But I mostly deffered to the professionals, by which I mean everyone in the room, from the on-camera talent just mentioned to the more junior staff members. Collectively we made some tweaks to the original plan, and all left feeling like it would be a solid program.
Live Airing of MLB Now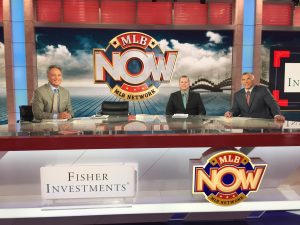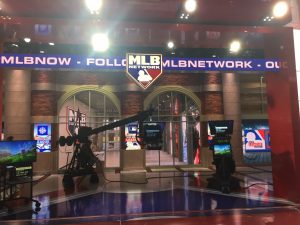 Makeup didn't take long, just a bit of something to keep away any light glare. I put on a tie, and was escorted over to the studio we'd be using. It was about 10 minutes before 2pm, so we bantered a bit about the topics we had lined up, while the production team made final adjustments to camera angles, seat heights, and so on. The two photos here are what it looked like for me facing the cameras, and then a shot of (left to right) Dan O'Dowd, me, and Joe Girardi just before went live (Scott Braun was off set at that moment). Someone gave a countdown of 5 or 10 seconds, and then Scott welcomed viewers to the live show!
I wasn't nervous really, but certainly very excited. During most of the program I wanted to defer to the experts who do this all the time, and especially on some of the topics where I didn't have any expertise or even much of a considered opinion. But Scott was great at giving me a voice and including me in the panel format, and Dan and Joe were supportive of me as the day's guest on the show. And so I did chime in on some of our topics here and there, including our thoughts as Spring Training was getting underway, ways that MLB was considering the issue of sign-stealing, who might replace Bruce Bochy as Giants manager after the 2018 season, and just where was Bryce Harper going to sign?
My 5-Minute Book Interview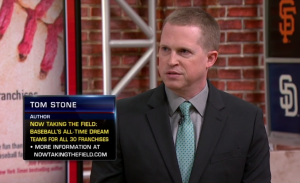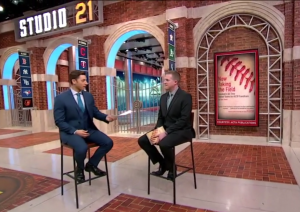 As MLB Now has done with book authors on other episodes, there is one segment of the show that is a focused interview between the show's host and the author. This is done on a separate stage, off to the side in a separate room essentially from the main stage. So during one of the commercial breaks, Scott and I got up and walked over to that area, got situated on the high chairs, and waited for the countdown for cameras to again be live. We had arranged ahead of time the type of questions he would ask me, and we mostly stuck to that script. We covered the essentials of what the book is about, why I wrote it, and then got into a few specifics of some of the dream team rosters, difficult selections, and so on. Scott did a great job of keeping it moving, but not making me feel rushed either. In the end it was a solid 5-minute interview, which if it won't play below you can view by visiting here at MLB Network.
Follow-up and Impact
After we concluded the hour-long show, I was asked to stay another hour or so, in case there was any breaking news that we'd want to discuss and then edit in for the re-running of the show later that night. The main concern was that Bryce Harper was going to sign, something that didn't happen for several more days. No big news came through, so I thanked everyone and hit the road home to Rochester, a drive which was sunny and nice, a huge difference from the night before.
During my tough drive the night before I had wondered if this trip and television appearance was going to be worth the effort. The answer is of course a resounding yes, both for me personally and in terms of book publicity. It was a great experience for me and lots of fun to work with Scott, Dan, Joe, and the rest of the team involved in the show. And in terms of the book, the impact was immediate. I don't know about overall sales, but to give you a sense of what a national TV appearance can do, at least in the short-term, consider these metrics for sales via Amazon alone. On February 20, Now Taking the Field was ranked #46,468 — not bad out of some 8 million books that Amazon sells and tracks. After the show aired on February 21, the book had shot up the chart to be ranked #298 overall! In terms of the baseball book category, it similarly went from #51 to number #2, bested only by Baseball Prospectus 2019 (an annual book with a built-in audience that had been released only one week earlier.)
These rankings and the sales rate have of course gradually declined in the several weeks since the show, but there has been some long-tail effects as well. The leaders of SABR (Society for American Baseball Research) were kind enough to let me promote my book at the SABR Analytics conference in Phoenix, Arizona in early March, and several folks there recognized me from the MLB Now appearance. Then the company I work for, the Institute for Corporate Productivity (i4cp), had our member conference for human resources executives, right after that in Scottsdale, Arizona. I4CP's CEO, Kevin Oakes, surprised me by noting my television appearance to the approximately 400 business leaders in attendance, and had ordered around 100 copies of my book for me to sign as gifts for anyone who was interested. This was great fun for me and our I4CP members, who variously wanted the book either for themselves, relatives, or work colleagues back home.
What's Next?
People online continue to reach out and note that they saw me on MLB Now, and I am hoping to leverage this first television appearance to get more publicity for Now Taking the Field. I've continued to do more radio interviews, and I hope to see more articles and reviews in the future too. But clearly a national television appearance is on another level, both in terms of fun for me and impact for the book, so I welcome the opportunity to be on other shows and networks!