About the Book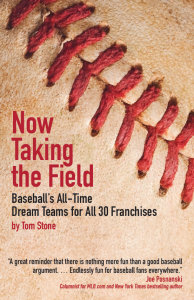 Now Taking the Field: Baseball's All-Time Dream Teams for All 30 Franchises
By Tom Stone
614 pages, $18.95
Published by ACTA Sports
ISBN = 978-0-87946-666-4
Available at:  ACTA Sports, Amazon, Barnes and Noble
Twitter: twitter.com/TomStoneBB
Facebook Page: www.facebook.com/Now-Taking-the-Field-481704619018466/
Who is the best at each position throughout the history of each major league baseball franchise? Now Taking the Field provides robust 30-man all-time dream team rosters, selected based on Wins Above Replacement (WAR), traditional statistics, awards, and post-season accomplishments. Additional features for each all-time team include starting lineups, depth charts, comparisons with numerous past authors and fan surveys, and more.
The Longer Story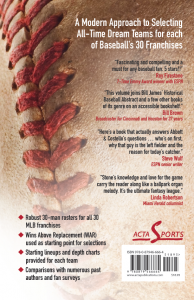 I started thinking about this book when I was 10 years old, in 1983. Growing up in western New York, the famously snowy Rochester winters left baseball-loving kids with few options in the winter other than trading baseball cards, playing video game versions of baseball or counting the days until pitchers and catchers reported for spring training, so I spent long hours considering who would be on the greatest baseball teams of all-time.
I started actually writing the book in 1999 and after nearly 20 years of on-and-off effort, the book is finally published as Now Taking the Field: Baseball's All-Time Dream Teams for All 30 Franchises, and is available through the publisher ACTA Sports, at Amazon, at Barnes and Noble, and elsewhere.
My approach was to start with the popular Sabermetric statistic WAR (Wins Above Replacement) as the basis of comparing players throughout the history of the game. For each franchise, I looked at each player's total WAR score, and also their top three WAR score seasons (for peak value) and WAR per game played (for average value over time).
I also took into account all of the traditional statistics like home runs, stolen bases, batting average, earned run average, and many more. And to round things out I paid attention to key awards like MVPs, Cy Youngs, Gold Gloves and the Rookie of the Year, as well as a player's postseason performance.
In the end, I selected 30-player rosters for each of the 30 major league baseball franchises. By "franchise" I mean a continuously operating team through name and location changes (e.g., the Twins chapter includes their time as the Washington Senators, the Dodgers chapter includes their time in both Brooklyn and Los Angeles, etc.). The 30-player rosters are composed as follows:
16 positions players, 2 per position (with a good mix of OF)
2 "extra" position players (any position)
12 pitchers (7-10 starting pitchers, 2-5 relief pitchers)
I also listed a top-four managers for each franchise
In choosing the players, I provide the reader with both statistical tables and a brief description of each player that I considered.
Going beyond the roster choices, I then asked the question: What would starting lineups look like for each of these all-time dream teams? Lineups often look very different depending on whether a team is facing a right-handed pitcher or a lefty, so I provide two lineups for each team. As an example, here are the Detroit Tigers all-time dream team starting lineups: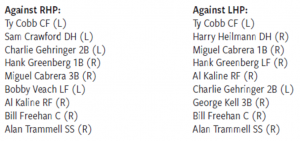 Baseball fans today like to see rosters displayed visually in the form of depth charts, so I've included those diagrams for each dream team as well. As an example, here is the Pirates all-time dream team depth chart: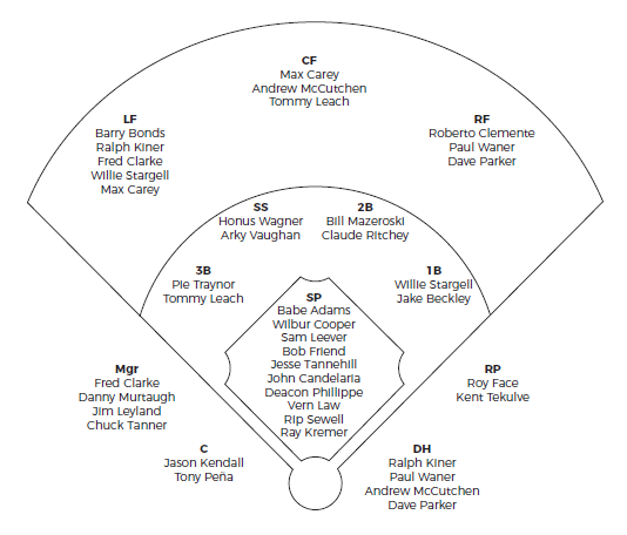 Considering and debating baseball all-time dream teams has a long history, going back to the 1940s according to my research. So for each team, I described how my selections compare with those of other authors and fan surveys throughout the decades.
Each chapter has a few other fun features, such as listings of the best single seasons for each franchise (according to WAR score), the selection of a highest-honor franchise player, and more.
I want to thank everyone who has supported my work on this project over the years. I hope readers enjoy the book as much as I enjoyed writing it, and I look forward to your comments and feedback!