About the Author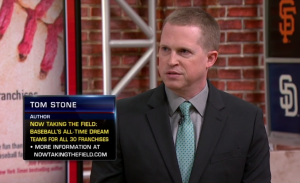 Hello… my name is Tom Stone. I'm the author of Now Taking the Field: Baseball's All-Time Dream Teams for All 30 Franchises. I worked on this book off-and-on for nearly 20 years, and am delighted to finally have it published in November, 2018. This is the first of many baseball books I intend to write. I am also a periodic blogger at Seamheads.com.
This page provides a bit more information about me.
Professional
I have nearly 20 years of experience in the corporate Learning and Development and broader Human Capital industry. I am currently a Senior Research Analyst for i4cp, Institute for Corporate Productivity, a research firm that focuses on next practices in human capital, supporting member organizations efforts in making the greatest impact on their business today and in the future.Through superior research, peer collaboration, tools, and data, i4cp provide insights that help organizations better anticipate, adapt, and act in a constantly changing business environment.
Prior to joining i4cp, I was Director, Technology Based Learning at Dale Carnegie Training, where I led the product development for their live online and other digital offerings. Earlier in my career I served as a Senior Research Analyst at talent management software provider Taleo and held various positions, including Product Design Architect and Content Development Manager at e-Learning provider Element K.
I am a frequent speaker at corporate learning and human resources conferences and have spoken at over 150 regional, national, and international events on a wide range of topics.
I am also co-author, with Kassy LaBorie, of the book Interact and Engage! 50+ Activities for Virtual Training, Meetings, and Webinars (ATD Press, 2015).
Personal
I was born in 1973, and grew up in a small town near Rochester, New York. I went to the University of Rochester and graduated in 1995 with a BA in Philosophy.
I live in Rochester, NY with my wife Kassy LaBorie, our son Wyatt, and our two cats Speedy and Luna.